Tower Defense and Real-Time Strategy Game Based on the Popular Anime Series
Now Available to Download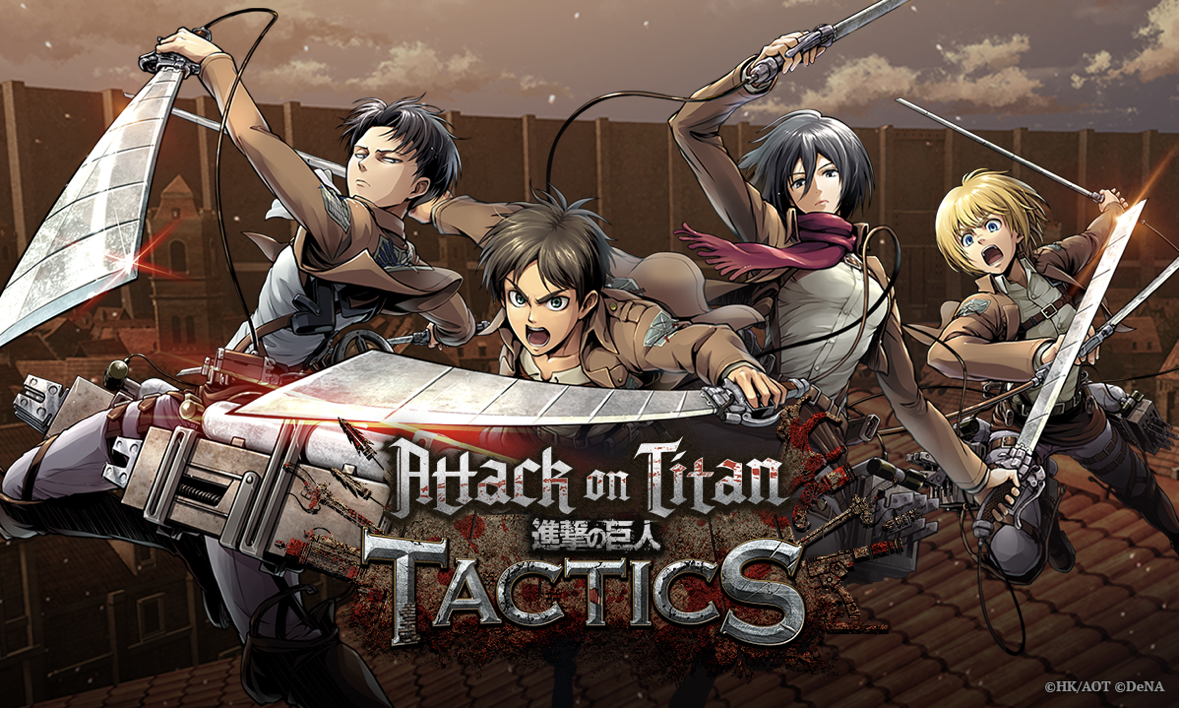 TOKYO, JAPAN — September 19, 2019 —
Today, DeNA Co., Ltd. launched
Attack on Titan TACTICS,
an officially licensed mobile game based on the popular anime series
Attack on Titan.
The game is now available for download on iOS and Android devices in the US, Canada, and Australia:
Attack on Titan TACTICS
is a tower defense and real-time strategy game where players build and deploy an elite team of Scouts to defend their base from a relentless onslaught of Titans. The game features fan-favorite characters like Eren Jaeger, Mikasa Ackermann, Captain Levi, and more, and follows the story from the first season of the
Attack on Titan
anime series. A new launch trailer for the game can be found here:
https://youtu.be/AAnem5sU6GA
Additional features that players will be able to enjoy in the game include:
● Accessible but Deep Gameplay: A real-time battle system that's easy to learn, but hard to master; the key to victory is choosing when and where to deploy your units.
● Stunning Original Art: Gorgeous character illustrations and must-see battle animations created exclusively for the game.
● Fan-Favorite Characters with Unique Abilities: Over 50 different characters are available, with more planned for the future. Each character has its own unique set of attacks and abilities on the battlefield.
● New & Original Stories: Scenarios written solely for the game that fans won't find anywhere else.
● Original Voice Actors From the Anime Series: Examples include Yuki Kaji (voice of Eren Jaeger), Yui Ishikawa (voice of Mikasa Ackermann), Marina Inoue (voice of Armin Arlelt), Hiroshi Kamiya (voice of Levi), and Daisuke Ono (voice of Erwin Smith).
In celebration of the launch of
Attack on Titan TACTICS,
special in-game events and rewards will also be available for a limited time. The Levi Squad Gacha, available now through October 3, 10:59 PM PDT (details are subject to change without notice) will provide players with a chance to obtain a 5★ recruit from the Levi Squad (Captain Levi, Scout Regiment Petra Rall, Levi Squad Oruo Bozad, or Levi Squad Eld Gin). More details on this event are available in the in-game gacha menu.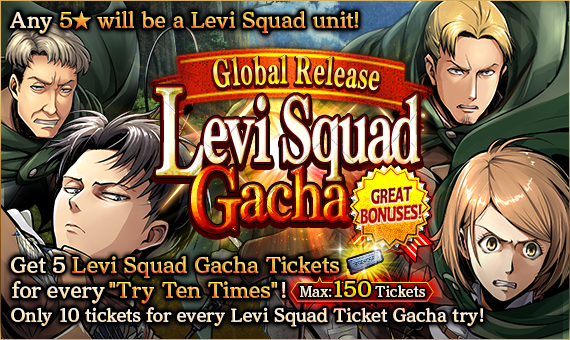 All players will also receive an in-game reward of 300 Crystals (good enough for 10 attempts to recruit new troops to your team) as a reward for reaching the goal of 70,000 total pre-registered players prior to the game's launch. All players who download the game from now through October 17, 7:59 AM PDT (details are subject to change without notice) will receive this reward.
Crunchyroll Games is an official partner of
Attack on Titan TACTICS.
Fans who want to catch up on the anime series can stream
Attack on Titan
now on
Crunchyroll.
Distributed by Funimation®, a subsidiary of Sony Pictures Television,
Attack on Titan
is adapted from the New York Times best-selling manga series from Kodansha about the last of humanity fighting to survive against man-eating giants called Titans. To date, there are a total of 28 volumes in the manga series with an estimated 88+ million copies in print around the world. Attack on Titan can be watched on FunimationNow in the U.S., Canada, U.K., Ireland, Australia and New Zealand. For more information, visit
funimation.com/attackontitan.
Based on the manga "Shingeki no Kyojin" by Hajime Isayama originally serialized in the Monthly BESSATSU SHONEN magazine published by Kodansha Ltd. ©Hajime Isayama,Kodansha/"ATTACK ON TITAN"Production Committee. All Rights Reserved.
About DeNA
DeNA (pronounced "D-N-A") develops and operates a broad range of mobile and online services including games, e-commerce, entertainment, healthcare, automotive and other diversified offerings. Founded in 1999, DeNA is headquartered in Tokyo with over 2,000 employees. DeNA's aim is to delight and impact the world through the use of the internet and AI. DeNA Co., Ltd. is listed on the Tokyo Stock Exchange (2432). For more information, visit:
dena.com/intl/.
About Crunchyroll Games
Crunchyroll Games is a
Crunchyroll
division focused on the publishing and distribution of anime-inspired interactive content, created to engage with the vibrant gaming enthusiasts across the Crunchyroll community. Crunchyroll is the world's most popular anime brand, connecting a community of more than 50 million registered users and 2 million subscribers with 360-degree content experiences and the world's largest collection of anime. Crunchyroll Games are available across iOS and Android. For more on Crunchyroll Games, please visit
crunchyrollgames.com