Plan to Use Genetic Information and Lifestyle Habit Related Analysis Data From Up to 100,000 People for Drug Validation and Drug Discovery Research
TOKYO, JAPAN – December 3, 2020 –
DeNA Life Science Inc., a subsidiary of DeNA Co., Ltd., and the IQVIA Japan Group, who support life science business optimization, began a partnership in December 2020 on the Genome Wide Study Platform, a platform for pharmaceutical companies, that aims to create a database of statistical genetic information* related to disease and relevant analysis results of survey information on disease, physical predispositions, and lifestyle habits, etc., and make use of that information for drug utility & safety validation and drug discovery research.
*This does not include information from which an individual may be identified, only statistical information that cannot be linked to an individual.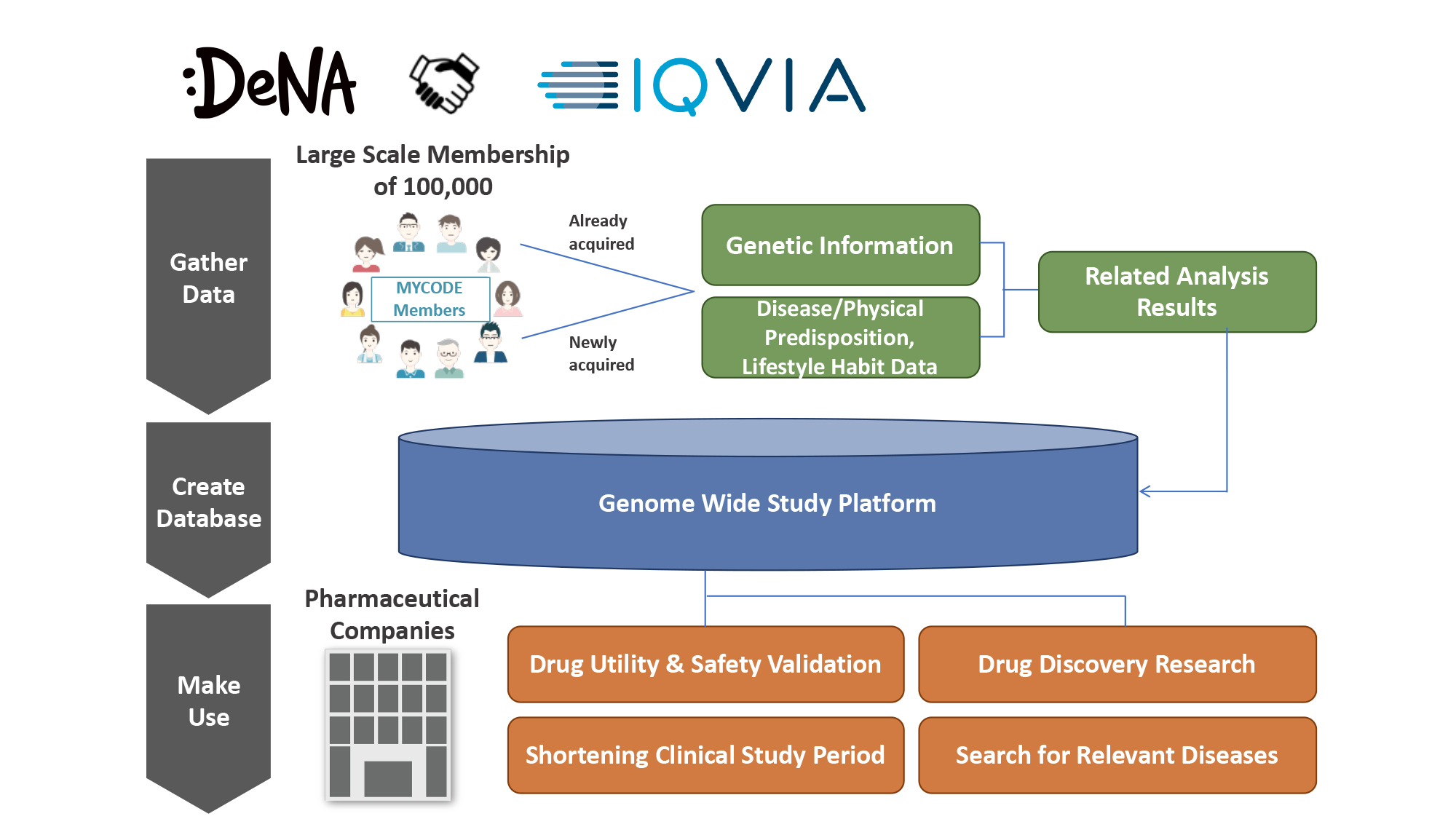 Summary
The mission of the DeNA Healthcare Business is "making the shift from 'sick care' to 'healthcare' and lengthening healthy lifespans." DeNA provides various healthcare services making use of the engagement science knowhow accumulated through its Game and Sports Business, with the goal of solving social issues in the healthcare space. In the direct-to-consumer genetic testing service MYCODE, about 90% of the 100,000 users elect to participate in research conducted under the genome research project MYCODE Research, which aims to achieve healthy longevity. DeNA engages in community-derived science, where it contributes to scientific development by having individuals in the user community consent to contribute to research through the internet. So far about 20 joint research projects with academia and the private sector have been conducted, and while ordinarily it would take several months to gather sufficient research participants, through MYCODE Research up to several thousand people can be gathered in a few days. In addition, this highly motivated cohort has a very high submission rate of required samples and surveys, so there is little time lag and few missing submissions. This initiative is highly valued for how it makes use of the internet and provides rapid and large scale access to a large scale potential participant base, with a high data collection rate.
Through the current initiative, we take the genetic information and disease, physical predisposition, and lifestyle habit, etc. user survey related analysis results (statistical data) from those MYCODE users with statistical data who have consented to participate in research through MYCODE Research, create a database, and make it possible to view and make use of that database on the Genome Wide Study Platform built by IQVIA. For example, this includes data from cross-analysing genetic types related to specific diseases and physical predispositions, and the relationship between genetic type and lifestyle habits. Pharmaceutical companies can view and make use of this wide variety of data on the platform to create new hypotheses and validate them in their drug discovery and development based on genomic statistical data. IQVIA can further add its wide variety of medical data and solutions to the service to support better understanding of mechanisms in diagnosis and treatment and the enhancement of clinical data, and aim to achieve further refinement in drug utility and safety. If genetic data can be used for drug discovery, then it could lead to the shortening of clinical study (clinical trial) periods and search for relevant diseases.
We also plan to extract and provide new relevant analysis data from MYCODE Research in response to individual requests, such as making statistical data obtained from genetic related analysis on diseases and physical predispositions of focus to particular pharmaceutical companies available to be viewed and used. We aim to build a platform that continually makes meaningful data quickly obtainable for pharmaceutical companies.
About DeNA
DeNA (pronounced "D-N-A") develops and operates a broad range of mobile and online services including games, live streaming, entertainment, healthcare, and other diversified offerings. Founded in 1999, DeNA is headquartered in Tokyo with over 2,000 employees. DeNA's aim is to delight and impact the world through the use of the internet and AI. DeNA Co., Ltd. is listed on the Tokyo Stock Exchange (2432). For more information, visit:
dena.com/intl/
.
About DeNA Healthcare
DeNA combines the engagement science it accumulated through the Game Business and Sports Business, and its knowhow from healthcare services provided to date to provide a variety of healthcare services, conduct joint research, and engage in disease awareness activities. With the direct-to-consumer genetic testing service MYCODE, available on both PC and smartphone, consumers can send a saliva sample in a dedicated container to receive test results about genetic predispositions, such as disease risk and physical predispositions for up to 280 items, including cancer, and the service provides advice on lifestyle habits. In MYCODE Research, DeNA engages in community-derived science, where it contributes to scientific development by having individuals in the MYCODE user community consent to contribute to research through the internet. In this novel form of research, we solve the issues in conventional research such as the large amount of time and cost required to recruit research participants and gather data, and expect to have those research results contribute to society more quickly.
For more information, please see (
https://healthcare.dena.com/
) (Japanese only).
About IQVIA
IQVIA (NYSE:IQV) is a leading global provider of advanced analytics, technology solutions and clinical research services to the life sciences industry dedicated to delivering actionable insights. Learn more at
www.iqvia.com
. Learn more IQVIA Japan Group at
www.iqvia.co.jp