17 Total Projects, with Two First of Their Kind Genome Research Projects for the Japanese Population
TOKYO, JAPAN – December 15, 2020 –
DeNA Life Science Inc., a subsidiary of DeNA Co., Ltd., has compiled a report overviewing the joint research activities conducted in 2020 through MYCODE Research (
https://mycode.jp/survey/research
). MYCODE Research is a genome research project that aims to achieve healthy longevity, and about 90% of the 100,000 users of the direct-to-consumer genetic testing service MYCODE participate in this research.
In 2020, there were 17 projects,* including ongoing projects, with participation from 60,000 MYCODE users cumulatively. In particular, never-before-seen research results for the Japanese population stood out. Also, as COVID-19 was spreading rapidly, a unique user survey was conducted during the state of emergency in Japan. All these research results were not only announced publicly, but also directly to MYCODE members who participated in research through email and the member page.
*This includes all research plans, data acquisition, data analysis, and announcements of research results in 2020.
Summary of Major Activities
1. Kirin Holdings Company, Limited
Conducted First Research for the Japanese Population on the Relationship Between Eye Symptoms and the Immune System
Conducted a Genome-Wide Association Study (GWAS) to comprehensively explore the relationship between eye symptoms that occur with age and immune system related genes for the first time for the Japanese population, and comprehensively searched for the potential genetic factors related to those symptoms. This research suggested the possibility of a relationship between eye strain & presbyopia symptoms and the immune response associated with inflammation. In future clinical research, etc. this is expected to lead to greater understanding of the genes and mechanisms involved in the immune system and eye health, including the relationship between eye symptoms and eye disease.
The results of this research were presented at the Human Genome Meeting 2020 (
http://hugo-hgm2020.org
), held in April 2020, and at the 20th Annual Meeting of the Japanese Society of Anti-Aging Medicine (
https://www.c-linkage.co.jp/jaam2020/
), held on September 25 of the same year.
(Press release (Japanese only):
https://dena.com/jp/press/004648
)
2. Morinaga Milk Industry Co., Ltd.
Comprehensively Analyzed Gut Microbiota of Japanese People for the First Time, and Explored Impact of Genetic Factors on Gut Microbiota
Comprehensively analysed the human genome related to the gut microbiota for the Japanese population for the first time, and explored the impact of genetic factors. This research made clear that not only is Japanese gut microbiota impacted by particular strongly associated genetic variants, such as those related to the ability to digest alcohol and certain single gene disorders, but also cumulatively affected by multiple common genetic variants,* throughout the genome.
The results of this research was published online in the scientific journal
Communications Biology
on November 18, 2020 (
https://doi.org/10.1038/s42003-020-01416-z
).
*Individual differences in DNA sequence, such as SNPs.
The results of this research are expected to become foundational data for understanding gut microbiota in different ethnicities. These research results were gained through community-derived science, in which individuals in the user community consent to participate in research and contribute to the development of science using the internet. This novel research framework solves many difficulties associated with conventional methods, such as the massive amount of time and cost associated with recruiting research participants and gathering data, and is expected to contribute to research results providing returns to society more quickly.
(Press release (Japanese only):
https://dena.com/jp/press/004663
)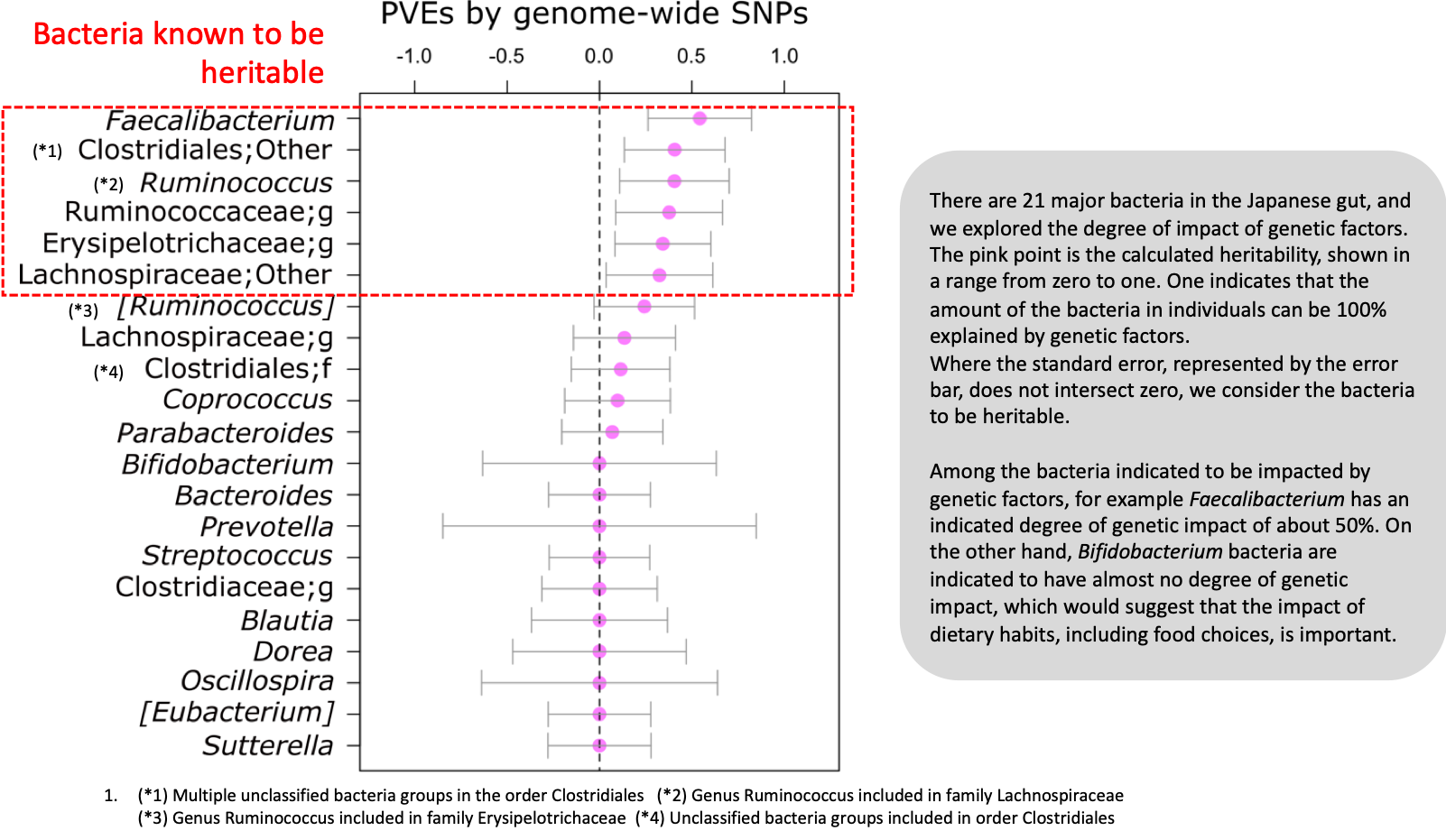 3. IQVIA Japan Group
Began Partnership on Health Data Platform for Pharmaceutical Companies
Began a partnership in December 2020 on the Genome Wide Study Platform, a platform for pharmaceutical companies, that aims to create a database of statistical genetic information related to disease and relevant analysis results of survey information on disease, physical predispositions, and lifestyle habits, etc., and make use of that information for drug utility & safety validation and drug discovery research.
Pharmaceutical companies can view and make use of this wide variety of data on the platform to create new hypotheses and validate them in their drug discovery and development based on genomic statistical data. IQVIA can further add its wide variety of medical data and solutions to the service to support better understanding of mechanisms in diagnosis and treatment and the enhancement of clinical data, and aim to achieve further refinement in drug utility and safety.
(Press release:
https://dena.com/intl/press/004670
)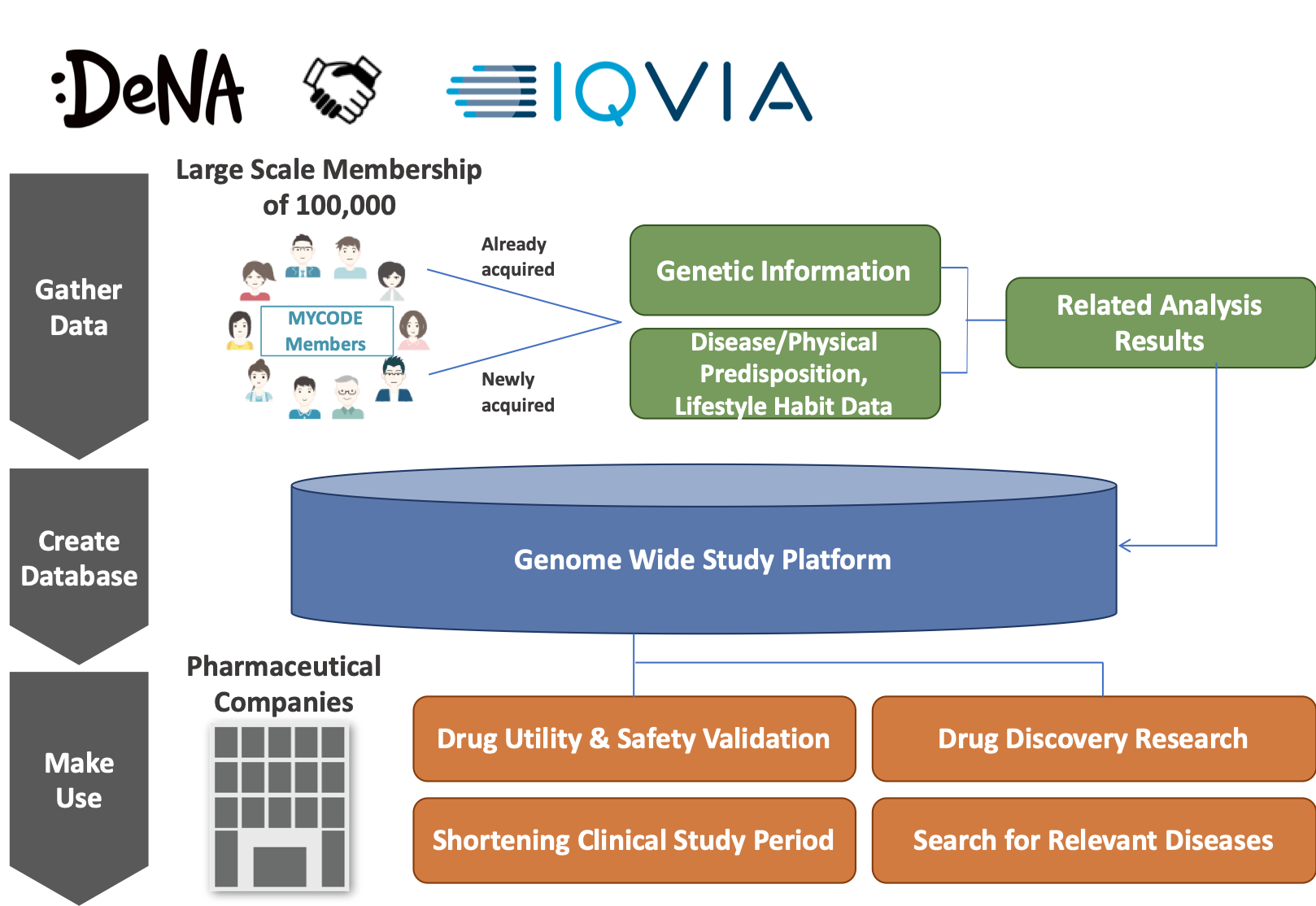 4. FANCL Corporation
Conducted Research Focused on Relationship Between Urine and Blood Nutrients
A trial was conducted to determine the relationship between the amount of nutrients excreted in urine and the nutrients in the blood. 300 MYCODE members participated in this trial, which is expected to make clear a new method to ascertain nutrients from urine. The trial was held in the DeNA headquarters in Shibuya Hikarie, and at the training grounds of the Yokohama Stadium, home of the Yokohama DeNA BayStars, where there is sufficient space for social distancing to prevent the spread of COVID-19.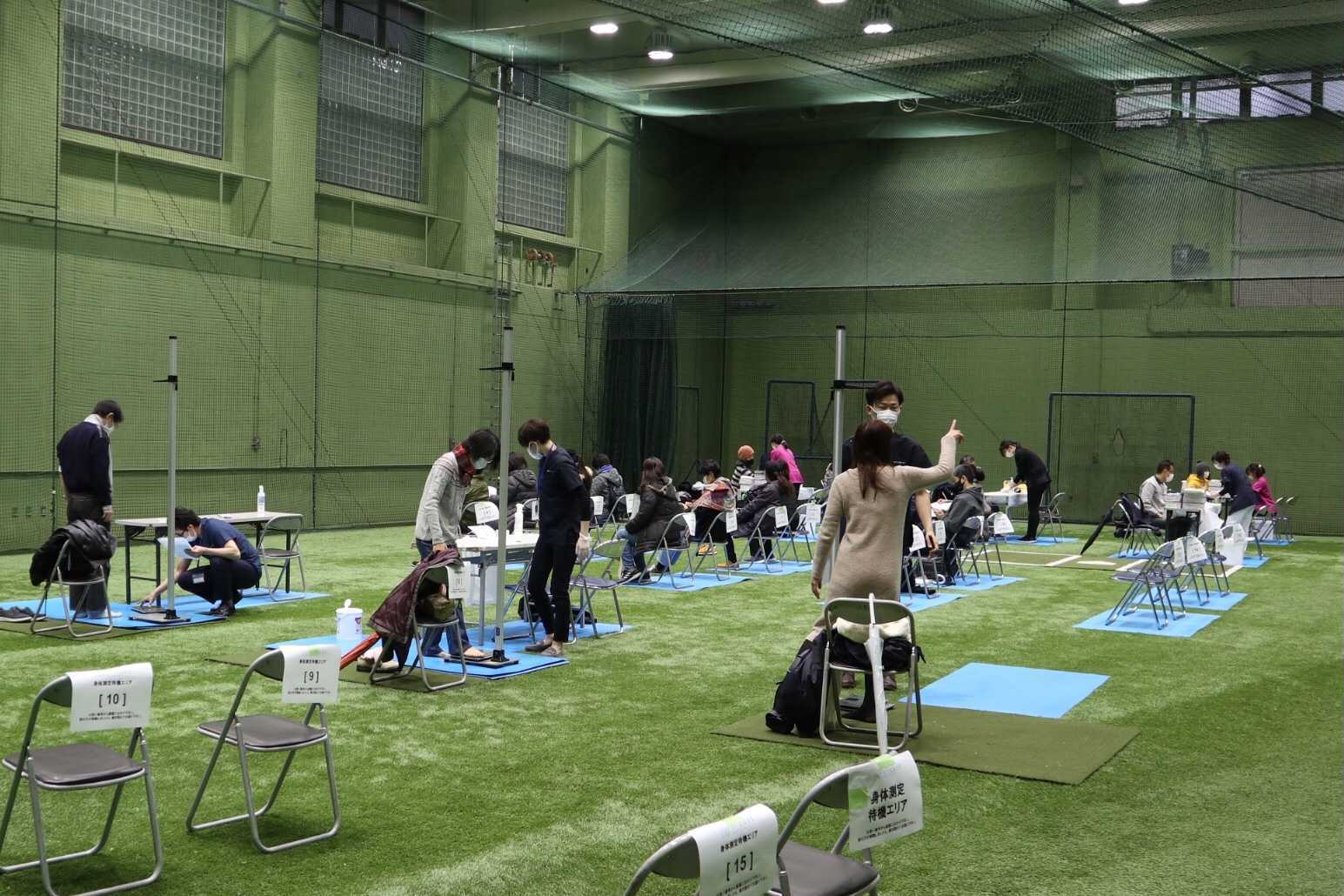 [Trial held at Yokohama Stadium training grounds]
5. The Japan Society of Human Genetics
Presented Two Types of Genome Research at 65th Annual Meeting of The Japan Society of Human Genetics
1. Relationship between susceptibility to influenza and genetic factors
Genetic and environmental factors are believed to have a complex impact on susceptibility to disease, and this has been a subject of focus in recent years. To study the involvement of genetic factors on susceptibility to influenza, a common infectious disease, a GWAS and pathway analysis were conducted on people who had influenza three times or more over the past four seasons, and people who never had influenza. The results suggested the involvement of the PTPRC genetic region* and Notch signals & B cell signals, and supported the involvement of an immune response to influenza. These research results are expected to be applied to measures to combat influenza in the future.
*A gene region involved in T and B cell antigen receptor signaling, also known as the rheumatoid arthritis-related gene
2. Relationship between research participation behaviors and genetic factors
The development of medical and life science depends in significant part on the cooperation of people in research, and understanding the psychological background of people's participation in research is important. In this research, a GWAS was conducted of people who have participated in the MYCODE Research web survey, and people who have not participated. The results suggested the involvement of the ZCCHC7 genetic region, reported to be related to early bird/night owl characteristics and mental health, and there is speculation that there is commonality with personality characteristics such as thoroughness and cooperativeness, thought to be related to participation in research behaviors.
(
http://www.congre.co.jp/jshg2020/
(Japanese only))
6. User Survey Related to COVID-19
A survey was run for MYCODE members asking about how they view COVID-19, their actual behavioral changes, and their evaluation of the state of society.
Survey Summary
Survey period: May 8 - 14, 2020
Survey subjects: MYCODE members
Survey method: Online survey through member email magazine
Valid responses: 2,995
This survey, conducted in May while Japan's declaration of a state of emergency was in effect, showed that half of people incorporated teleworking, and what people most wanted to do after COVID-19 was travel. Over half of respondents had a pessimistic view of the future Japanese economic situation, and over 60% of respondents said they wanted to take both the antibody test and antigen test that became common topics at that time.
(For more information (Japanese only):
https://mycode.jp/topics/life/hygiene/mycode_covid19_survey.html
)
Summary
MYCODE Research is a genome research project that aims to achieve healthy longevity. In the six years since the project began, we have been able to provide returns in the form of research results to MYCODE members and society in general. One particular accomplishment in 2020 were the research results specific to the Japanese population that were the first of their kind in the world, made possible by MYCODE Research's genetic information for approximately 90,000 Japanese people being made available for research. These results were presented at international conferences and published in academic journals.
We aim to continue to proactively collaborate with those MYCODE members who wish to participate in research, and the private sector & academia while making optimal use of the unique characteristics of the Japanese population and its homogeneity. In recent years, this had not been limited to just research, and has also included initiatives to make use of accumulated data and the creation of new businesses based on research results. R&D continues to provide the foundation, and DeNA will make use of its strengths to contribute to society, promote the achievement of healthy longevity, and further develop research and business activities.
About DeNA Healthcare & MYCODE Research
The mission of the DeNA Healthcare Business is "making the shift from 'sick care' to 'healthcare' and lengthening healthy lifespans." DeNA provides various healthcare services making use of the engagement science knowhow accumulated through its Game and Sports Business, with the goal of solving social issues in the healthcare space. In the direct-to-consumer genetic testing service MYCODE, about 90% of the 100,000 users elect to participate in research conducted under the genome research project MYCODE Research, started in 2015, which aims to achieve healthy longevity. DeNA engages in community-derived science, where it contributes to scientific development by having individuals in the user community consent to contribute to research through the internet. So far about 20 joint research projects with academia and the private sector have been conducted, and while ordinarily it would take several months to gather sufficient research participants, through MYCODE Research up to two thousand people can be gathered in a few days. In addition, this highly motivated cohort has a very high submission rate of required samples and surveys, so there is little time lag and few missing submissions. This initiative is highly valued for how it makes use of the internet and provides rapid and large scale access to a large scale potential participant base, with a high data collection rate.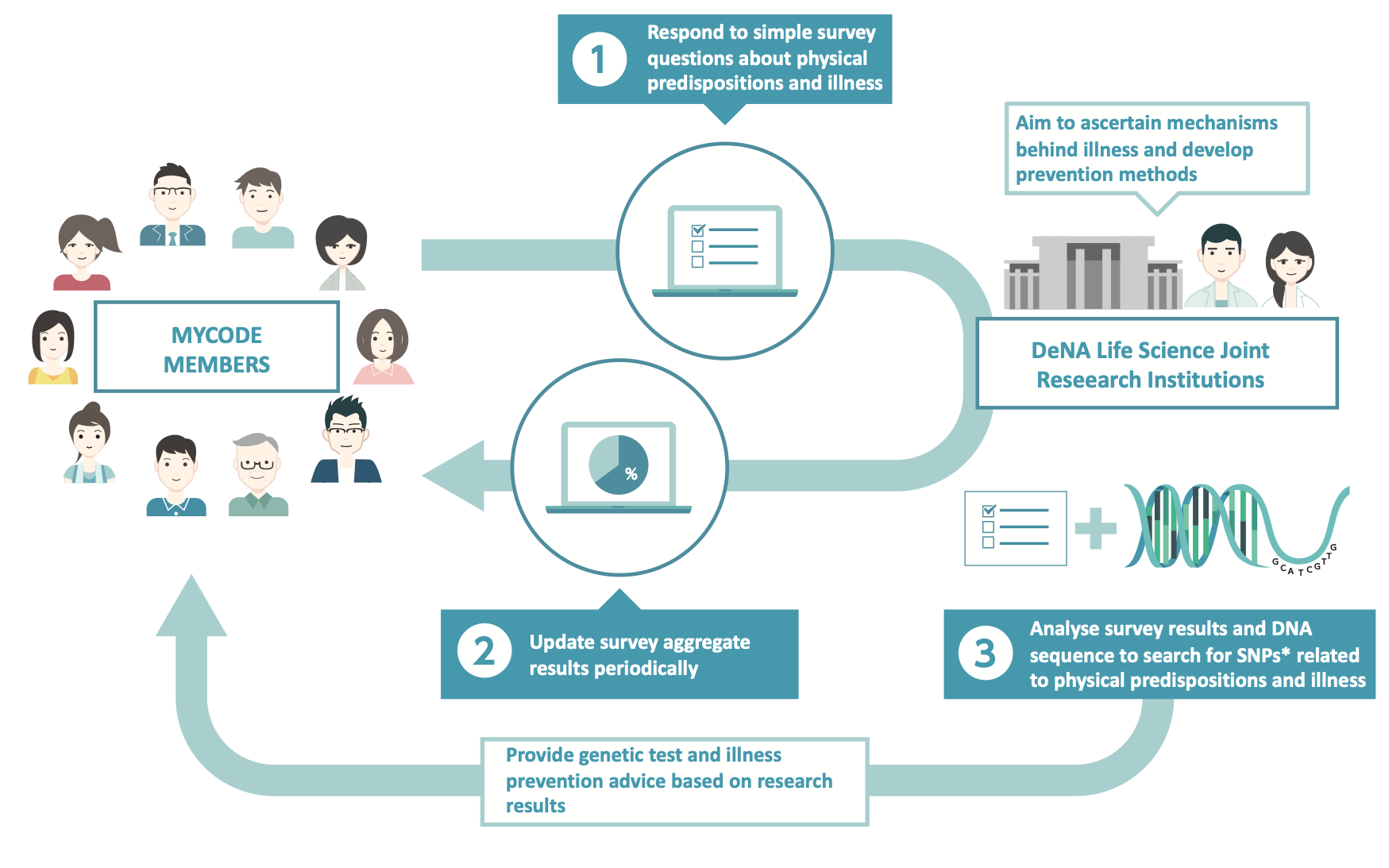 *SNPs are one form of diversity in DNA. Exploring the genetic form of SNPs can lead to learnings about illness susceptibility and physical predisposition characteristics.
[MYCODE Research Structure for Genome Research Involving Internet-Based User Participation]
About DeNA
DeNA (pronounced "D-N-A") develops and operates a broad range of mobile and online services including games, live streaming, entertainment, healthcare, and other diversified offerings. Founded in 1999, DeNA is headquartered in Tokyo with over 2,000 employees. DeNA's aim is to delight and impact the world through the use of the internet and AI. DeNA Co., Ltd. is listed on the Tokyo Stock Exchange (2432). For more information, visit:
dena.com/intl/
.